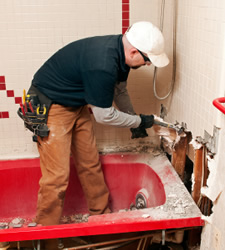 Are you interested in undergoing a bathroom renovation?
Renovating your bathroom is a great way to make your bathroom more efficient and more attractive while also adding value to your home. At the same time, it isn't too difficult to spend a whole lot of money on a bathroom renovation.
If you are interested in renovating your bathroom, but you want to keep the cost down to a minimum, you might want to consider implementing these 5 ways to save money when renovating a bathroom.
Save Up the Money
One of the best ways to save money on your bathroom renovation project is to simply save up the money beforehand. By borrowing money to complete your bathroom renovation, you will get stuck paying interest on the money that you borrowed. So, if at all possible, try saving up the money first so you don't have to borrow any.
Purchase Discontinued Products
Another way to save money is to purchase products that are being discontinued. Often, manufacturers and retail establishments will mark down the price on those items that are being discontinued.  There isn't actually anything wrong with these products. Rather, the manufacturer has simply decided to go in a different direction or is trying to save money by reducing its product offerings. If you are purchasing tiles that are being discontinued, however, be sure to purchase a few extra. This way, you won't be stuck with needing a replacement tile from a discontinued line if one of your tiles becomes damaged.
Consider Buying Damaged Products
Products that have been damaged can often be purchased at a significantly reduced price. Yet, the damage is often minimal and hardly even noticeable. So, be sure to look over the damaged products in order to see if any of them suit your needs and if you are able to live with the damage.
Search for Factory Seconds
Just as retailers will sell damaged products at reduced prices, so will factories sell their "seconds" at a lower price. Factory seconds typically have minor flaws that prevented them from making it past the in-house inspection process, but the flaws are often so minor that they aren't generally noticeable.
Check with a Manufactured Home Retailer
Manufactured home retailers often have hardly-used products available at low prices. This is particularly true of floorcoverings, as people who purchase a pre-fabricated home often request new flooring in a different color scheme. As a result, the manufactured home retailer has to remove all of the flooring and resells the original flooring in an effort to recoup some of the cost.
Related Home Improvement Posts: