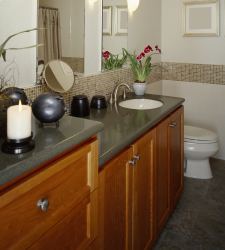 When it comes to selecting the perfect bathroom cabinets for your home, gaining a basic understanding of cabinets is essential.
By learning more about basic cabinet terms and elements, you will be better capable of selecting the right cabinets to suit your needs. The type of shelving, hinges and finish available for your cabinetry depends upon the type of construction used.
Therefore, a good place to start is to learn more about the various construction types and other features available.
Frameless Construction
As the name implies, frameless cabinets do not include a frame face. Also referred to as "Full Access" cabinets, frameless cabinets utilize a thicker box construction than standard cabinets in order to provide greater stability. With frameless cabinets, the shelves are usually adjustable, but only full overlay doors can be used and the hinges must be directly attached to the side of the cabinet box.
Wood Compound Options
When searching for the right cabinets for your bathroom, you will find a variety of wood compound options available to select from. The most common include:
Particleboard – made from a mixture of wood shavings and a binding material that is refined and bound together through high-heat compression
Plywood – made from wood veneers that have been bound together by alternating the layers in such a way that each layer runs at a right angle to the next
Thermofoil – made by pressing PVC foil onto an MDF core by using a heated, flexible membrane; this compound is used only for cabinet doors
Veneer – made by applying a thin layer of wood over another surface, such as a particleboard
Raised Panel Versus Recessed Panel
The center panel of the cabinet door may be either raised or recessed. With raised panel doors, the center panel is typically raised no further than the outside surface of the frame. With recessed panel doors, the center panel is sunken in as compared to the outside surface of the frame. It is also possible to purchase flat panel cabinet doors, which lay flush with the surface of the frame.
Storage Options
Many cabinet manufactures offer a wide range of built-in storage options designed to fit perfectly within their cabinets. Roll-trays, recycling bins, adjustable shelves and other customizable features can help make your cabinets more functional and suited to your lifestyle and needs. Therefore, when searching through your options, be sure to take the time to learn more about storage options and other features that can help make your cabinets more useful.
Of course, with all of the cabinetry options that are available to select from, it is easy to become a bit confused and even overwhelmed. As such, you might want to consider contacting a cabinet contractor to help you determine which type of cabinets are right for you.
Related Home Improvement Posts: