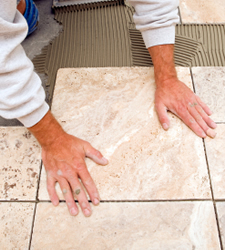 Are you planning to remodel your bathroom sometime in the near future? If so, selecting the right type of flooring for your bathroom is an essential part of the process.
With so many flooring options available to select from, creating a bathroom that is unique to your style and taste is easier than ever before. In fact, here is a look at just a few of the bathroom flooring ideas you have to select from.
1. Concrete Flooring
Concrete flooring can be an attractive alternative to traditional bathroom flooring. Oversized concrete tiles can create a consistent feel while also providing a level of durability that is unsurpassed.
2. Neutral Tile
Soft, neutral-colored tile is a great choice if you want to make your bathroom appear larger and more expansive. Neutral tile is also a good option if your bathroom is otherwise visually stimulating, as the tile will help offset the colors and keep the room from appearing too "busy."
3. Pebble Stone Tile and River Rock Flooring
Pebble stone tile can create a natural look that really helps pull the entire bathroom together. Another option is to use river rock flooring, which creates a natural look without costing as much as other flooring options. Pebble stone tile and river rock flooring are both excellent options for those who want to transform their bathroom into a serene escape.
4. Marble Flooring
Marble flooring can be used to create everything from a natural-looking space to a luxurious bathroom. When properly incorporated in the bathroom, the natural light that comes in through the windows will reflect off the tiles and create a soft, attractive look. Exotic marble flooring, on the other hand, can add a luxurious touch to your bathroom.
5. Borders and Mats
Adding a border to your bathroom floor is an excellent way to create interest while also bringing your bathroom to life. Borders also allow you to show your creativity as you choose the color, style and design that best suits your style and taste. It should be noted, however, that floor borders do tend to make a room look somewhat smaller than it really is. Therefore, this may not be a good option if you are remodeling a smaller bathroom.
You can also create interest with the help of unique accessories, such as a bamboo tile bathmat. Bamboo tile bathmats create a serene feel while adding more texture to the space. Creating focal points with the help of glass, stone or metal tile can also help add interest to your bathroom.
If you are still struggling with choosing the perfect flooring for your bathroom, or if you are not sure how to install the flooring, you might want to contact a professional to help with the process. With a professional flooring contractor by your side, you will be sure to achieve just the look you are after.
Related Home Improvement Posts: