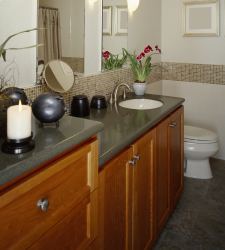 A bathroom remodeling contractor is an individual or company that has the expertise and experience to perform remodeling jobs in bathrooms. They may work exclusively within the bathroom remodeling industry or they may perform remodeling jobs throughout the entire building.

How Do I Select a Bathroom Remodeling Contractor?
Whether you choose someone who only performs remodeling of bathrooms or other areas of remodeling as well is up to you. However, a contractor who works exclusively in one area of remodeling is likely to be more experienced than someone who performs more generalized remodeling.
As a potential customer, you want to take the time to research any potential remodeling contractors and choose the one with which you feel the most comfortable and not choose solely on price and availability.
Since much of what a bathroom remodeling contractor does involves plumbing fixtures, it's important that he or she be very familiar with the placement of pipes and the installation of plumbing fixtures. Hiring someone who is familiar with plumbing will save you the cost of hiring a plumbing to perform those functions.
Your bathroom remodeling contractor should also be licensed to perform work in the area where you live, and if he is performing plumbing as well, he needs to be certified as a plumber through either an apprenticeship program or through formal training in a plumbing program in college or through a technical school.

What Can a Bathroom Remodeling Contractor Do For Me?
A bathroom remodeling contractor might be involved in any number of projects including a complete remodeling including plumbing fixtures, expansion of the bathroom to accommodate the need for more space, installation of a new tub, toilet, or sink/vanity, replacement of tiles and flooring, and installing an enclosed shower as opposed to one with shower curtains.
Whatever the project may be it's important to choose someone who knows how to perform the job in the least amount of time at the best price without compromising quality.