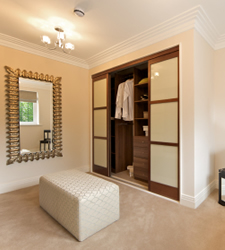 Having a custom bedroom closet design is the best way to help you get and to stay better organized. In order to enjoy all of the benefits that a custom closet provides, however, it is essential for you to take some time to create the best custom closet design possible. When creating a custom closet, there are three basic types of designs you can explore: built-in, wall-hung and floor-based. Here is a look at each type of closet and the pros and cons of each.
Built-In Closets
As the name implies, a built-in closet is one that is built directly into your home. As such, it is a permanent fixture to your home. This type of custom closet can add a significant amount of value to your home, as built-in closets are associated with luxury. On the downside, you need to be certain to carefully plan this design out in order to make sure you get the most out of your closet space.
Wall-Hung Closets
Wall-hung closets are not permanent fixtures. Rather, you simply add a wall-hung unit to the closet and then hang everything from that unit. These units are easily removable, which means you can take them with you if you move or you can easily replace them if you determine they are not providing you with the organizational help you are looking for. Another benefit to using a wall-hung unit is the fact that everything is off of your floor, which makes it easier to clean the floor of your closet.
Floor-Based Closets
Floor-based units rest on the floor and are built up from there. These units have a built-in look, but can be easily removed and reconfigured as necessary. Floor-based units tend to offer more storage space than wall-hung units.
If you are really at a loss as to how you can more efficiently use your closet space, you might want to contact a contractor or professional closet organizer to help you more effectively use your space.
Related Home Improvement Posts: