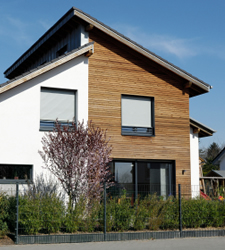 Custom home builders are those contractors who build homes according to the specifications of the buyer.
They are not pre-designed nor are they pre-fabricated but allow the buyers to create their dream homes. Sometimes they may work strictly with custom homes or they may work with a specific area offering home buyers an opportunity to choose from a set of pre-designed models which the buyer can customize to their specific needs and desires. Custom home builders work with the potential buyers in order to build the right house for each person.

How Can a Custom Home Builder Help Me?
A custom home builder might be involved in any number of projects including new home construction and customization. Quite often it is the custom home builder that helps a potential home buyer choose a home model from among the available choices.
With the help of a custom home builder, you can choose from other custom features such as carpet color, wall color, paneling style, appliances, and much more. Working with a custom home builder allows you to have more choice in the selection of their homes and the exterior and interior design.
How Do I Select a Custom Home Builder?
A custom home builder must be licensed in the areas where they perform their work. In some cases licensing is necessary within cities and municipalities as well. Training is usually provided on the job, although there may be some apprenticeship and classroom training as well.
A custom home builder will gain a reputation by performing well and thus causing others to refer them to buyers who are looking for a new home. Some companies may require certification of custom home builders through an apprenticeship program or other training.
This certification increases the marketability of the actual laborers thus increasing the number of contracts a company may secure. Buyers may want to investigate the requirements by individual custom home builders before choosing to contract with an individual home builder.