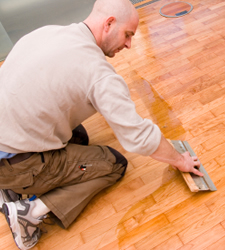 Replacing the flooring in your home is an excellent way to give your home a whole new look while also bringing it up-to-date.Before you start tearing up your old flooring, however, it is important to explore all of your flooring options in order to select the one that is best suited to your style and needs.To that end, here is a look at a few options and the pros and cons of each.
Hardwood Flooring
Hardwood flooring looks beautiful in virtually any home and can go a long way toward adding to your home's resale value. Furthermore, hardwood is easy to clean and to maintain, as it typically only requires occasional vacuuming.
On the other hand, hardwood flooring is loud to walk on and it can be quite costly to install. In fact, it generally costs anywhere from $3 to $12 per square foot. Real hardwood will also require occasional refinishing, particularly in high-traffic areas, and standing water can cause damage to the floor.
Tile Flooring
Floor tile comes in a wide variety of sizes, colors and materials, including porcelain, marble, slate, granite and travertine. It is also highly durable, resistant and easy to clean. Like hardwood flooring, however, tile can be a bit costly, with prices typically ranging from $1 to $20 per square foot. Furthermore, it can be very loud to walk on and can be cold to the touch unless a heating system has been installed. Tile can also crack and chip, while the grout can get stained and require regular cleaning. For these reasons, tile is typically best reserved for use in the bathroom and the kitchen.
Laminate Flooring
Laminate is a less costly option, with most running between $0.50 to $3 per square foot. Laminate does not easily scratch and is very easy to clean, though it will become damaged by standing water. Unlike real hardwood, laminate cannot be refinished if it becomes damaged. Since laminate is available in a wide variety of styles, including those that are made to look like real wood or tile, it makes a good choice for virtually any room. Due to its sensitivity to getting wet, however, it is generally best to avoid using laminate flooring in the bathroom, kitchen or laundry room.
Vinyl Flooring
Vinyl flooring typically costs less than $1 to around $5 per square foot. Vinyl is similar to carpet in that it is easy on the feet and is not noisy to walk upon. While there are vinyl options that are designed to look like wood or tile, it generally does not look like the real thing. Furthermore, vinyl has a tendency to tear and dent easily. Still, due to its sound-deafening qualities, vinyl can be a good option for use in a laundry room where it can be used to shield the sound from the washer and dryer.
Regardless of the type of flooring you select, installation can be tricky. Therefore, if you are not sure how to install your flooring, you might want to consider hiring a flooring contractor to do the job.
Related Home Improvement Posts: