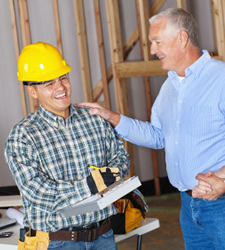 A general contractor is just as the term infers—a contractor who has responsibility for all aspects of a building project.
A general contractor is involved in the building process for any number of buildings including commercial, residential, and new construction. This includes working on new homes and apartment buildings.
A general contractor may omit areas of specialization or may have employees that specialize in certain areas of the construction project. The process varies from contractor to contractor, so you need to find these things out before you hire a new contractor.
What Can a General Contractor Do For Me?
The job of the general contractor can be very wide in scope when compared to those of a contractor that has more of a specialty area.
The general contractor may contract projects that include apartment buildings, warehouses, office buildings, new homes, factories, residential remodeling, and renovations in both the residential and commercial industries. Even though you may find some specialization within a general contracting company, most of the employees are trained in all parts of the job—at least to a certain degree.
It makes it simpler to have certain people perform certain job functions to allow them to gain more experience, but there are usually employees who can perform all areas of the job in case it is necessary.

How Do I Select a General Contractor for My Project?
A general contractor usually provides on the job training for the people it hires. For the most part, the employees of a general contractor are skilled or unskilled laborers depending on their job function. Lacking in formal training does not mean they are not experienced in what they do, but just that the type of job they perform does not require sitting in a classroom.
Though there are no certifications from formal educational sources, the company needs to comply with all of the licensing and safety requirements of the areas in which it provides services. Therefore, you should make certain the general contractor meets these requirements before hiring.