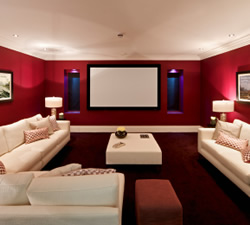 Home theaters are becoming more and more popular with home owners.
With all of the great technology that is currently available, it is little surprise that so many people are choosing to convert their living rooms into home theaters.
If you are someone who is interested in transforming your average living room into a home theater, here are 5 easy steps you can take to make it happen.
Plan Your Home Theater Layout
The first step to creating your own home theater is to plan your basic layout. Obviously, you will be limited to the space that you have available in your living room, so determine where you will place your seating as well as you screen. If you don't have enough outlets to power your equipment, you may also need to add extra outlets at this point.
Create a "Screen" Wall
The type of screen you use will depend upon your personal preference. While you can certainly purchase a movie screen and projector in order to create a true theater experience, most people choose to use a large flat panel television instead. Although this will limit the size of your screen, the image is going to be a lot clearer if you purchase a quality television. So, determine the size of the television you will use for your home theater and create shelving for the television as well as for your surround sound system.
Prepare the Walls
To create great theater sound, you will need to make a few changes to your walls. Namely, you will need to add foam panels to the wall so your walls can dampen the sound and create an acoustic affect.  You can then cover the foam with fabric in order to create a more attractive appearance.
Select the Right Furniture
To transform your living room into a home theater, you might also need to invest in some new furniture. At the very least, you want to be certain every piece of furniture in the room is comfortable and provides a good viewing angle of the screen. Similarly, if you are going to include tables or other furniture aside from chairs, make certain they are shorter so they don't obstruct viewing and that they have legs rather than vertical wood faces. Otherwise, they might interfere with sound quality.
Hook Up Your Electronics
Now that everything is all prepared for your home theater, it is time to hook up all of your equipment. If you aren't sure how to hook it all up in order to obtain the best picture and sound quality, you might want to consider hiring a professional to do the job. This way, you can be sure you are getting the most out of your system.
Related Home Improvement Posts: