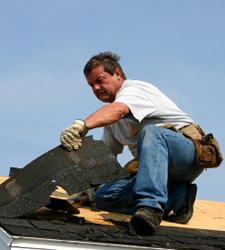 When it comes to replacing or repairing your roof, finding a quality roofing contractor is essential. After all, you have invested a great deal of money in your home. As such, you want to be sure the roof you put on your home is one made of quality craftsmanship that will last for years to come. To help guarantee you get the best roof possible, it is important to take the steps necessary to choose the best roofing contractor possible.
Choose a Reputable Roofing Contractor
The most important step in selecting a contractor is to find a reputable business that you can trust. If you have any friends or family members who have recently hired a roofing contractor, that would be a good place to start. If not, you can narrow down your choices by selecting a company with a permanent place of business, a business license and a tax identification number. Choosing a company with each of these characteristics will go a long way toward helping you avoid being part of a scam.
Ask Questions
Once you have narrowed down your pool of potential contractors, you can further narrow down your list by spending some time talking with each contractor. Not only will this help you determine who you feel the most comfortable with, but it will also allow you to gauge the contractor's level of knowledge and skill. Be sure to ask the contractor about the different types of roofing systems he is trained and certified to install. If the contractor claims to be certified with a certain type of system, ask to see the necessary credentials.
Check on Insurance and Licensing
A reputable roofing contractor will have general liability insurance and workers compensation coverage. If the contractor does not have this insurance in place, you could actually be held liable for any injuries the works incur while on your property. You should also check with your state's department of professional regulation to determine whether or not the contractor is properly licensed and bonded.
Insist on a Contract
Finally, you should insist that the roofing contractor provides a contract with a detailed description of the work that is to be done and its cost. The contract should include information regarding your payment schedule, the start date and the finish date for your project. If the roofing contractor is unwilling to provide a written contract, move on to someone else who will.
Related Home Improvement Posts: