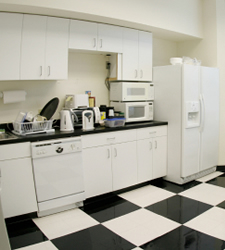 Remodeling your kitchen is a great way to give your home a whole new look and feel. Furthermore, if you are planning to put your home on the market any time soon, taking steps to boost the aesthetic appeal of your home is an absolute must. After all, for most buyers, the kitchen is the most important room in the home. One simple way to give your kitchen an update is to simply replace the floor with a new one. With so many different types of flooring materials available, the kitchen flooring ideas you can pursue are seemingly endless.
Tile Flooring
Tile flooring is easily the most popular choice for kitchen floors. Not only is tile durable and resistant to moisture, but it is also quite attractive. With the many different textures, colors, designs, shapes and sizes available to select from, the number of combinations available infinite. Tile flooring can also be easily tied in to the color and design of the backsplash or countertops in the kitchen.
Hardwood Flooring
Hardwood flooring is another flooring option that is growing in popularity. Due to the longevity and beauty that hardwood flooring provides, it can add a great deal of value to your home when installed in the kitchen. Furthermore, hardwood is much easier on the legs and feet than tile. Not only is it softer, but it does not have the same tendency to become cold. When choosing hardwood flooring, however, it is important to consider the moisture level in your kitchen, as excessive moisture and water can cause damage to the flooring.
Laminate Flooring
If you want to enjoy the look of hardwood flooring without paying the high prices, you might want to consider laminate flooring. Another perk to laminate flooring is that it does not require the same level of maintenance as hardwood or tile flooring. Laminate flooring is also one of the easiest flooring options to install because it can be installed over the existing floor. While laminate flooring is moisture-resistant, it is important to note that it will become damaged if standing water is allowed to sit on it for a period of time. Unlike hardwood, damaged laminate flooring cannot be refurbished and must be replaced.
Vinyl Flooring
Vinyl flooring is the least costly option available to those who wish to redo their kitchen floor. Not only is vinyl very resistant to stains, heat and water damage, but it is also a good choice for areas that see a great deal of traffic. While there are certainly many low-grade vinyl flooring options out there, quality grades of vinyl flooring can be quite attractive when installed properly.
Regardless of the type of flooring you choose to purchase, contacting a professional to assist with the installation process is a good idea. With the help of a knowledgeable and experienced flooring contractor, you can be sure your floor will be installed correctly and will offer long-lasting appeal.
Related Home Improvement Posts: