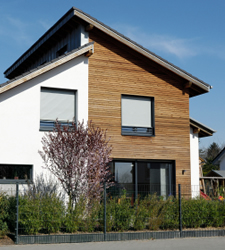 From a classic appearance to a rustic look, residential wood siding can give your home a truly distinctive look. Before you decide to use wood siding on your home, however, it is essential to explore the pros and cons of this type of siding. This way, you can be sure wood siding is the right choice for you and your home.
Pro: Create a Unique Appearance
There is no doubt that wood siding is an excellent choice for those who want to create a distinctive appearance for their home. Cedar shakes, for example, can create a natural appearance that can't be achieved with other siding options, particularly after they have been given the opportunity to age over time. Other wood siding options can create a classic and warm appearance.
Con: Lack of Paint Options
While wood siding can be quite attractive when stained and while it is available in a wide variety of colors, some styles cannot be painted. Cedar shakes, for example, should not be painted because the paint can peel off.
Pro: Increase Resale Value
Siding your home with wood siding can help increase the resale value of your home, as many potential buyers are interested in the beautiful look that wood siding provides. Since wood is generally more costly to install than more common sidings, such as vinyl and aluminum siding, many consider it to be a higher-end option.
Con: Maintenance Needs
One major drawback to wood siding is the fact that it requires a great deal of maintenance. Not only does wood siding need to be treated , but some wood siding may also need to be painted every five years or so. Not only can this maintenance be a bit costly, but it is time consuming as well. Furthermore, if you fail to maintain the siding properly, it may rot or otherwise fall into disrepair.
If you are interested in getting the look of wood but you do not want to deal with the hassle of maintaining the wood, you might want to consider getting fiber-cement siding. Fiber-cement siding, which is made of cement, sand and cellulose fiber, is available in a variety of textures and styles. Fiber-cement siding is more durable in wood in that it can stand up to termites, fire and water.
If you are interested in learning more about wood siding or its alternative options, it would be a good idea to meet with an experienced siding contractor. Not only can a contractor help you select the type of siding that best suits your needs, but he can also install the siding so you can finally enjoy the look you have been after.
Related Home Improvement Posts: