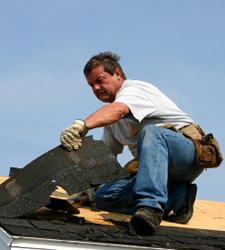 A roofing contractor is responsible for installing roofs in new homes or for removing roofs in old homes so new ones can be installed.
A roofing contractor may also work on personal homes and businesses in order to install roofing or repair leaks caused by older, deteriorating roofing.

What Can I Expect When Hiring a Roofing Contractor?
With new home constructions, a roofing contractor is called in to install roofing on the roof. The roof must meet state requirements in terms of insulation and wind protection and it must not allow leaks of any kind.
A typical roofing job begins with the installation of water and weatherproof paper followed by the installation of rustproof drip edge on the edges and peak and then the shingles or metal roofing.
On a roof that needs redoing, a roofing contractor must pull off all shingles and old roofing felt/paper and then inspect the plywood roofing for dry rot or other problems. If the plywood or trusses have deteriorated, they must be replaced. Once the roof is ready to be shingled, the roofing job begins.
What Should I Look For When Hiring a Roofing Contractor?
Most roofing contractors learn through on-the-job apprenticeships or through vocational program in high school that are then followed by an apprenticeship. Most states do not require any special licensing in order to become a roofing contractor.
Therefore, you should look for one that has plenty of relevant experience and training. You may also want to look for a roofing contractor that is a member of the National Roofing Contractors Association.
A membership with this organization provides the contractor with access to updated information on roofing materials, practices and laws. In the end, what really matters is the contractor's experience when determining who you should hire for your roofing project.