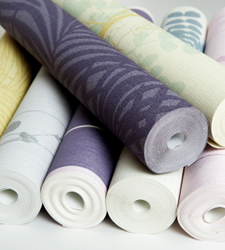 Wall coverings offer an excellent option for home owners who want to add color and interest to their home. As wall coverings grow in popularity, the number of options available to homeowners continues to grow. To that end, here is a look at a few wall covering options that are available for your home.
Wood Wall Coverings
A wide variety of wood wall coverings are available for homeowners who wish to go that route. Some homeowners are surprised by all of the wood options that are available. Some of the lesser-known options include:
Bamboo Paneling – consists of smoothly sanded bamboo splits that are glue-pressed onto a canvas backing. Bamboo paneling is available in a number of different colors and grains.
Natural Matting – made from renewable resources such as palm leaf, bamboo and banana tree bark. The material is stripped and woven into flexible sheets using only the parts that can be continually harvested without damaging the plant.
Kirei Board – an engineered panel product that is made from the stalks of the Sorghum plant. The stalks are heat-pressed to form a lightweight and strong wall covering.
Of course, paneling and a variety of other woods can also be used to form a very attractive wall covering within the home.
Fabric Wall Coverings
A wide variety of different fabrics can also be used to cover the walls within the home. Available fabrics range from silk to fiber and everything in between. One benefit to using fabric wall coverings is that they can help to deaden the sound within the room, thereby helping to soundproof the room. Fabric wall coverings can also be easily coordinated with other fabrics and colors within the room, which can really go a long way toward tying everything in the room together.
Paint Wall Coverings
While paint is the most common form of wall covering available, it is also a very effective and practical choice. Although your walls will ultimately need to be repainted in order to create the bright, vibrant appearance you desire, paint is relatively easy to apply and comes in a wide variety of colors and textures.
Wallpaper Wall Coverings
Although wallpaper had fallen out of favor among homeowners, it is gradually starting to regain favor. Not only has wallpaper advanced to the point that it is longer-lasting, but it is also available in a number of classy and modern designs. As such, wallpaper has once again become a very viable option for many households.
If you are still unsure about what type of wall covering is right for you or if you want help with installing it in your home, you may want to consider contacting a wall covering professional. With the help of a professional, you will be sure to achieve just the look you want.
Related Home Improvement Posts: