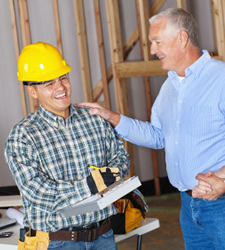 Are you hiring a home builder to build a new home for you?
If so, there are several things you should know about the builder before you sign a contract and agree to using their services. With this list of top 10 things to ask a home builder before you build, however, you will certainly get great service and great results.
1. Do You Have References?
Make sure to ask the home builder for references and then call the references to check on the builder's work.
2. Are You Licensed?
Only deal with a home builder that is licensed to perform the type of work you are requesting. By working with a licensed builder, you can take comfort in knowing that the builder has fulfilled certain criteria that is important to the job.
3. Are You Insured?
The home builder should be insured against problems that may arise during the building process, which will keep you protected. The builder should also be insured to protect the workers that will be building the home on your property.
4. How Can I See Samples of Your Work?
Some home builders offer walk through models of their completed homes that you can walk through.By taking a walkthrough, you can get a better idea of the quality and determine if you like the builder's work.
5. Are You Currently Working on Any Homes?
Visiting the building site of a home that is in the process of being built is a good way to get an idea of how the builder operates and the quality of the craftsmanship as the structure is being built.
6. Have You Ever Filed for Bankruptcy?
When a home builder files bankruptcy, its customers are left hanging without a home. If the company has filed bankruptcy in the past, it may do it again.It is best to stay clear of companies that have filed bankruptcy.
7. Have You Ever Operated Under a Different Company Name?
Some companies change names in order to avoid legal troubles. Find out the other names the company has operated under and be sure to check into those names as well.
8. What is Your Status with the Better Business Bureau?
The Better Business Bureau monitors businesses and complaints that customers may have placed against the company. You should ask the company about its standing and then check for yourself.
9. When Will the Project be Completed?
The home builder should give you a schedule that will help you keep track of when different stages will be completed.
10. How Much Will this Cost Me?
The home builder should give you a cost quote, which should be written into a contract so there are no unexpected expenses.
Related Home Improvement Posts: