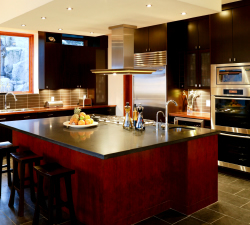 Are you looking for a way to make your home more valuable? With these simple tips and tricks, you will certainly find your home more enjoyable while also increasing its market value.
Tip #1: Remodel Your Kitchen
Kitchen updates are one of the best ways to increase the value of your home. Adding modern appliances and refacing your cabinets to give it a more modern look is well worth the investment. Don't be afraid to hire a kitchen remodeling contractor to help you out.
Tip #2: Add a Garage
Homes with at least a two car garage are more attractive to potential homebuyers. Having a home with a small garage is almost as bad as having no garage, so consider upgrading before putting your home on the market. Do it yourself or hire a garage contractor.
Tip #3: Remodel Your Bathroom
Bathrooms are very important to homebuyers. Just as with the kitchen, homebuyers look for modern conveniences. Adding a Jacuzzi bathtub, painting the walls, and adding appropriate flooring will go a long way toward increasing your home's value. This can either be done by yourself or you can hire a bathroom remodeling contractor.
Tip #4: Install the Right Flooring Material

Natural materials such as wood and ceramic are popular among homebuyers. Laminate flooring is a good option, as well, as it creates a natural look without the headaches associated with natural flooring materials. If you don't have the tools, you might want to consider hiring a flooring contractor.
Tip #5: Install Granite Counter Tops
Granite counter tops are popular in both kitchens and bathrooms. These countertops are low maintenance and quite attractive and can add significant value to your remodel. This is one project to leave to a professional counter top contractor.
Tip #6: Increase Curb Appeal
Your home needs to grab the homebuyer's attention and look great as soon as he or she pulls in the driveway. Add flowers to the outside of your home and make sure it looks bright and cheery. For a more dramatic entry, find a local landscaping contractor.
Tip #7: Add Natural Light
Homebuyers like homes that are bright and cheery on the inside as well. Look for places to add windows or patio doors that will allow more natural light to come in. Consult with a window contractor to help you with your decision process.
Tip #8: Open Up the Space
Homes with an "open concept" are more valuable to homebuyers than those that feel closed up. Knock out walls wherever possible and open your home up. A great place take out a wall is between your kitchen and your dining room.

Tip #9: Apply a Fresh Coat of Paint
A fresh coat of paint makes a home look new again. When repainting walls, choose neutral colors that don't stand out too much. Bold colors may be attractive to you, but they may be a turnoff to potential homebuyers. Most projects can be done yourself. If however, that is too much work, you might want to consider hiring an interior painting contractor.
Tip #10: Clean Up Clutter

A cluttered home appears small and dirty. Make certain all clutter is cleaned up on the inside and the outside of the home. Rearrange furniture or remove furniture in order to make the home feel less "cramped."
Related Home Improvement Posts: