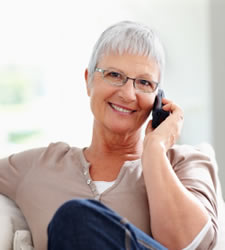 When sorting through potential contractors to hire for your home improvement project, one crucial step in the process is to contact the contractor's references.
Yet, many homeowners fail to take this step or they simply do not ask the right questions when contacting references.
Since references are your key to learning more about the contractor's work habits and quality of work, it is essential that you plan out the right questions and ask them with each contractor you interview.
To that end, here are the top 5 questions you should ask when contacting references.
Question #1: Did the Contractor Stay on Schedule?
Everyone has heard horror stories about contractors who fail to stay on schedule or who work odd hours that interrupt with the homeowner's lifestyle. When talking with a reference, take the time to learn more about the hours the contractor worked and whether or not he stuck to the agreed upon schedule. Obviously, there will be times when legitimate reasons slow down the progress of work, such as uncooperative weather, but your contractor's references should be able to give you a good idea whether or not you can expect poor time maintenance to be a problem.
Question #2: Did the Contractor Meet the Terms of the Contract?
You should also ask the references whether or not the contractor satisfactorily met the terms of the contract. In addition to following the schedule established by the contract, this includes finding out whether or not the project was completed as agreed and with the agreed upon materials.
Question #3: Was the Contractor Willing to Listen to You?
Nothing is worse than having a contractor who is unwilling to take the time to listen to your needs and to answer your questions. So, be sure to ask the references whether or not the contractor was willing to listen and to engage in a two-way conversation where their opinions were valued.
Question #4: Was the Contractor Willing to Make Corrections as Necessary?
No matter how well-planned a project may be, you may run into problems along the way. Perhaps this was due to a miscommunication or because the contractor simply didn't meet your expectations. Either way, a reputable contractor will be willing to correct any mistakes as necessary. Therefore, be sure to ask the reference whether or not any mistakes were made and, if so, if the contractor was willing to make the necessary corrections without a hassle.
Question #5: Would You Hire This Contractor Again?
Ultimate, the million dollar question comes down to, "Would you hire this contractor again?" If the reference says that he would not hire the contractor again, this will certainly serve as a red flag. If the reference would be willing to hire the contractor again, it is certainly a point in that contractor's favor.
Related Home Improvement Posts: